Warehouse
Management System
Ash Logistics' Warehouse Management System (WMS) is a software and process that allow organizations to control and administer warehouse operations from the time goods or materials enter a warehouse until they move out. Operations in a warehouse include inventory management, picking processes and auditing.
WMS provides visibility into an organization's inventory at any time and location, whether in a facility or distributor. It can also manage supply chain operations from the manufacturer or wholesaler to the warehouse, then to a retailer or distribut Our WMS is often used alongside or integrated with a Transportation Management System (TMS) and Inventory Management System.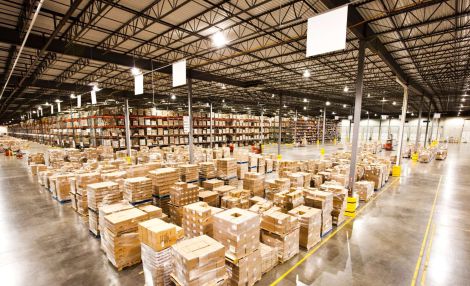 Warehouse Management System
Ash Logistics has identified the gap of centralised database management in the field of supply chain & logistics and therefore decided to start working on the 'BlockChain Technology'.
Although a WMS is complex and expensive to implement and run, customer gain benefits that can justify the complexity and costs. Implementing a WMS can help an organization reduce labour costs, improve inventory accuracy, improve flexibility and responsiveness, decrease errors in picking and shipping goods, and improve customer service.
Our WMS operate with real-time data, allowing the customer to manage the most current information on activities like orders, shipments, receipts and any movement of goods.
Compatibility
WMS has extension module to link with other well known ERPs popular in the industry. Linkages available from both sides to automate task that requires huge manual efforts as well as reconcilliation.
Expertise
Beside this, Ash Logistics has experienced and skilled workforce to handle other ERPs in the field of Supply Chain viz - SAP, SAP WMS, Oracle, Baan, JD Edwards, Tally etc.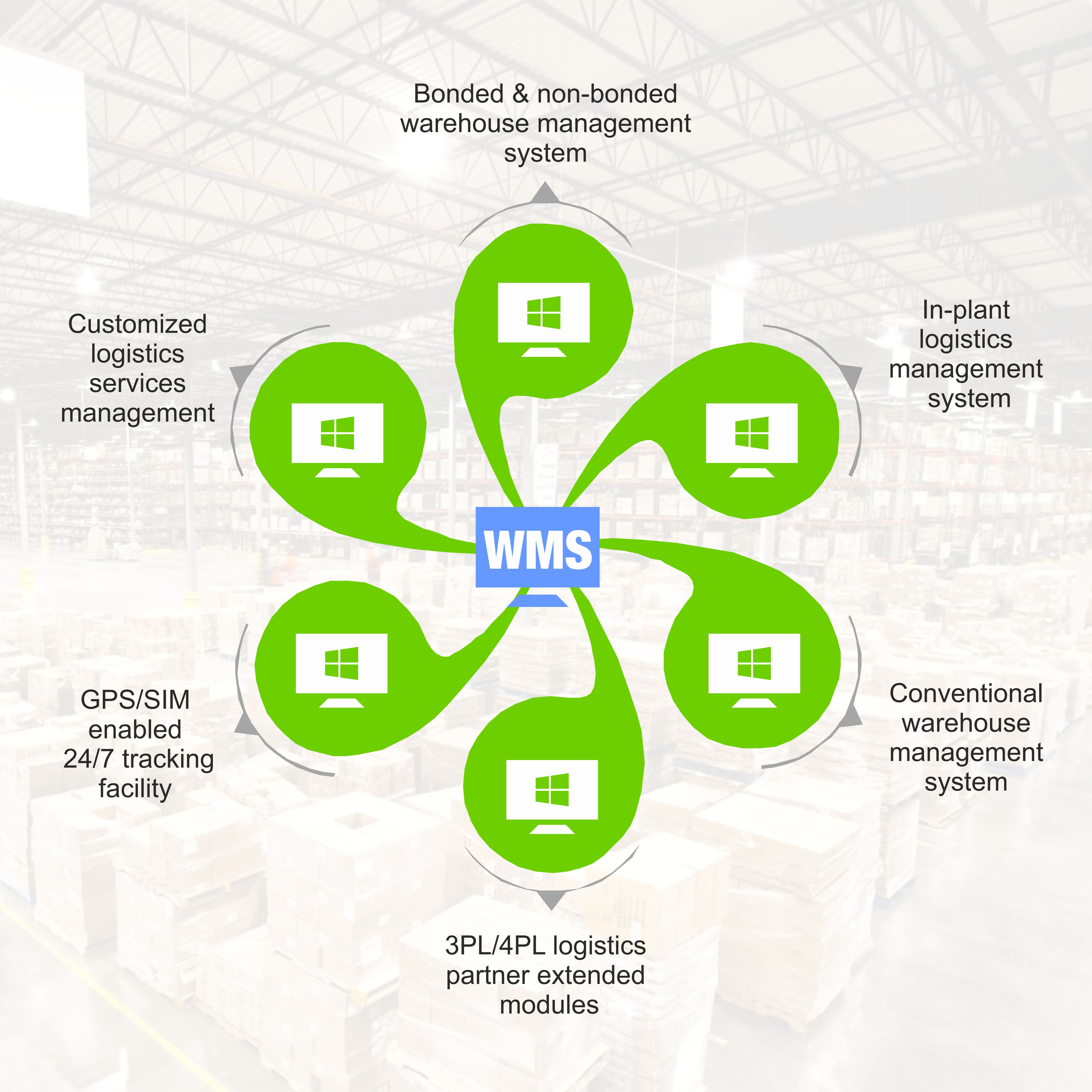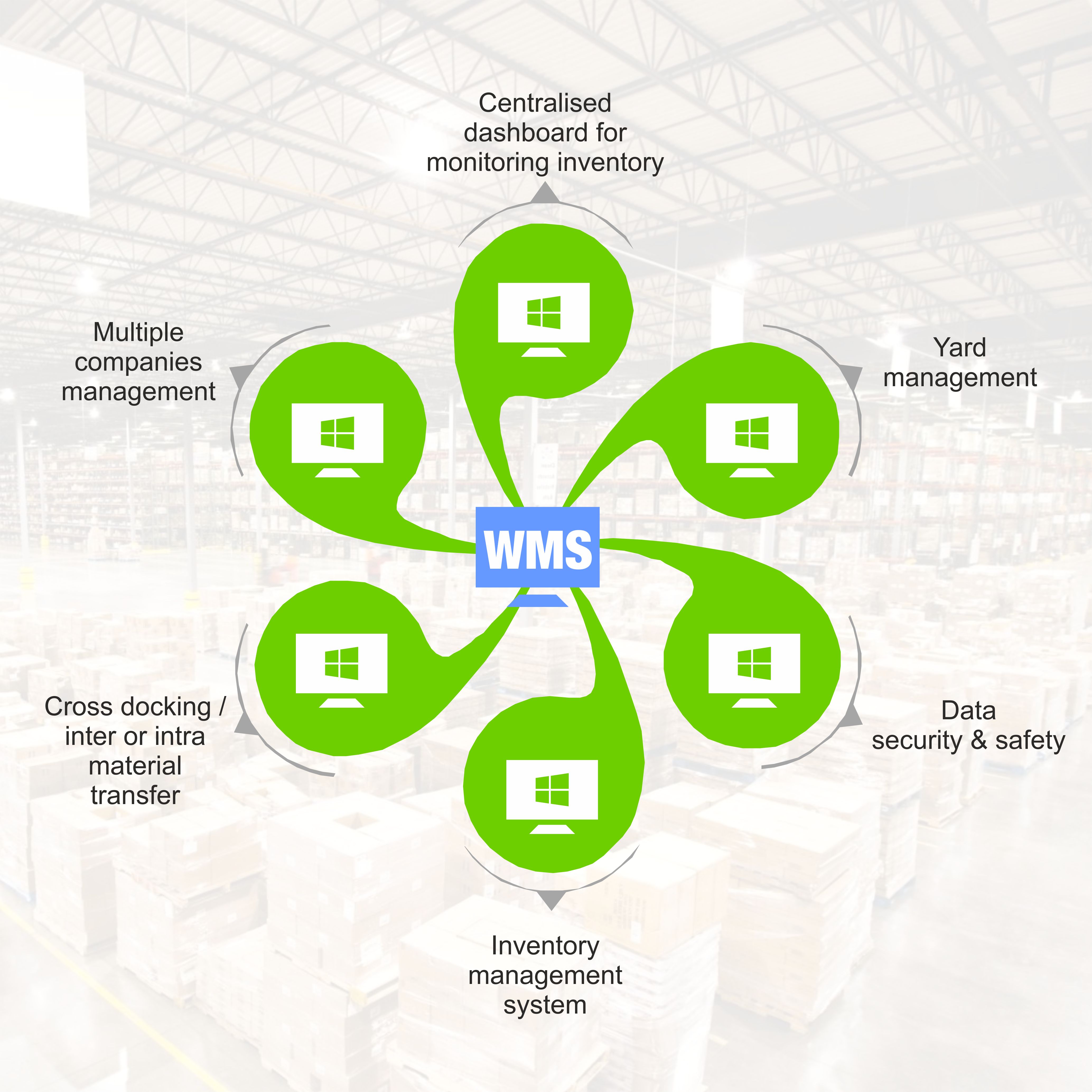 Warehouse Design
Warehouse design enables organizations to customize workflow and picking logic to make sure that the warehouse is designed for optimized inventory allocation. The WMS establishes bin slotting that maximizes storage space and accounts for variances in seasonal inventory.
Inventory Tracking
Inventory Tracking enables the use of advanced tracking systems, including Radio-Frequency Identification (RFID), Automatic Identification and Data Capture (AIDC) and barcode scanners to make sure that goods can be found easily when they need to move.
Dispatch
Dispatching enables the WMS to send bills-of-lading (B/L) ahead of the shipment, generate packing lists and invoices for the shipment and send advance shipment notifications to recipients.
Labour management
Labour Management helps warehouse managers monitor workers' performance by using key performance indicators (KPIs) that indicate workers who perform above or below standards.
Receiving and put-away
Receiving and put-away allows inventory put-away and retrieval, often with pick-to-light or pick-to-voice technology to help warehouse workers locate goods.
Yard and dock management
Yard and dock management assist truck drivers coming into a warehouse to find the right loading docks. A more complex use of yard and dock management enables cross-docking.
Picking and packing goods
Packing goods including zone picking, wave picking and batch picking. Warehouse workers can also use lot zoning and task interleaving functions to guide the pick-and-pack tasks most efficiently.
Reporting
Reporting helps managers analyse the performance of warehouse operations and find areas to improve.
Are you interested in being a partner with Ash Logistics and Traders?
Join us as a partner and grow your business with us as never before. We are not just service provider but we are growth partner.