COLD CHAIN
TRANSPORTATION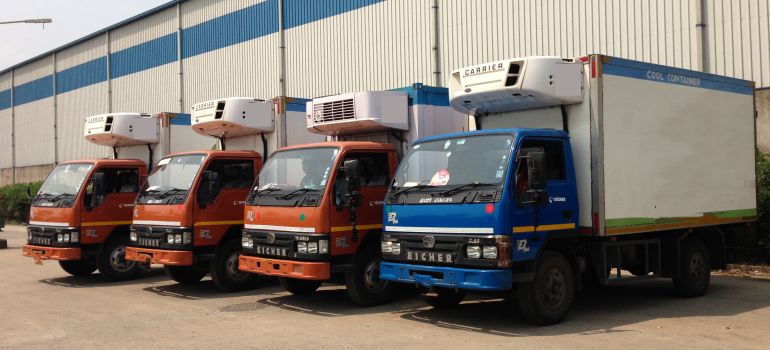 Ash Logistics offers temperature sensitive, cost effective, end to end Cold Storage Transportation Services in India, Nepal, Bhutan and Bangladesh. We offer you flexibility to choose the service depending on the market and volume for consumer packaged goods, pharmaceuticals and agriculture-food sectors. All our trucks are equipped with advanced climate-control systems - reefers and sensors to record temperature information and give you a live reporting of temperature in transit. We provides full truck load transportation solutions for frozen and chilled products, with deliveries to pan-India, from manufacturing unit to distribution centres or cold storage facilities based on the load factor (sizes of vehicles).
Our cold chain
transportation services includes:
Cost-Effective transportation
Warehouse Management
3Pl/4PL Partner with years of experience
Better Maintenance, Lower Downtime
For over the years, led by an experienced & competitive team of industry professionals, we have delivered operational excellence in customized, innovative and trusted cold chain solutions. Our aim is to partner with our customers to deliver refrigerated storage and trucking solutions that deliver tangible, sustained benefits and help drive bottom line efficiencies.
Advantages:
Cold chain transportation, one of the core offering from the Ash Logistics' Transport Division.
Ash Logistics is best service provider in this segment
Specialized in movement of large quantum of cargo or freight as per Law
We provide local and regional shipments as well nationwide shipments services
We also provide service from India to Nepal, Bhutan and Bangladesh
Highest quality service through FSSAI approved refrigerated trucks
We are one of the leading logistics companies in India serving FTL services to national and multi-national companies across India
Delivering consistent value to our existing all customers, we are trustworthy, reliable and leading service provider in this domain
Supported by own and hired fleet as per your need
Multi-facility use of environment-friendly refrigerant – Freon 404
Our Cold Chain
Transportation services include:
24 by 7 Online /offline order placement
Online LR (Lorry Receipt) generation through our Transport Management System
Assistance to decide type of carrier by our expert transport team
Tracking of your consignments 24 by 7 through our Transport Management System (GPS / SIM)
Visibility and reports for each movement of the shipment
Definite transit schedule towards just in time delivery
Opportunity to transport high value goods securely with our safe services
Extensive IT Network support for your cold chain transportation including online billing, payment, PODs and other data backup for a year
Are you interested in being a partner with Ash Logistics and Traders?
Join us as a partner and grow your business with us as never before. We are not just service provider but we are growth partner.