About
Ash Logistics
Ash Logistics and Traders Private Limited company is a leading logistics company headquartered in Pune-India. Over the years, Ash Logistics has pioneered itself as one of the most trusted and reliable end-to-end logistics solutions provider across India and globally .
We provide solutions to more than 125 countries with more than 27+ branch offices across India. Today, Ash Logistics offers logistics solutions and seamless connectivity to customers across diverse industry verticals like Fast Moving Consumer Goods (FMCG), Steel, Plastic, Automobile & Auto-components, Projects, Consumer Durable, Pharma, Healthcare, Electrical, Electronics, Textiles, Apparel & Lifestyle, etc.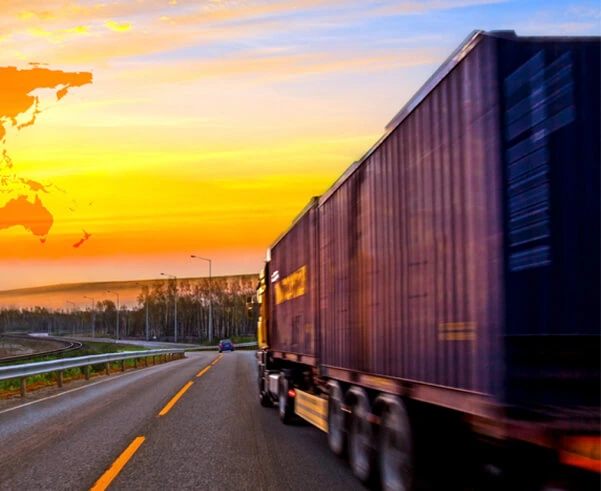 Our
Competency
The experienced and dynamic management team at Ash Logistics contributes greatly with new thinking by adopting new technologies, applying latest and modern methods in the field of transportation to help the needs of customers. Ash Logistics constantly strives to develop better, more efficient ways to do business, whether it is by implementing cutting-edge technology, increasing the number of services or expanding our network of branches and warehouses. This dynamic mindset is reflected in our motto "ASH" and demonstrates a tradition of innovation which is intrinsic to every part of Ash Logistics.
"; } ?>
Our
Certificates
ISO
Certificate
FSSAI
Certificate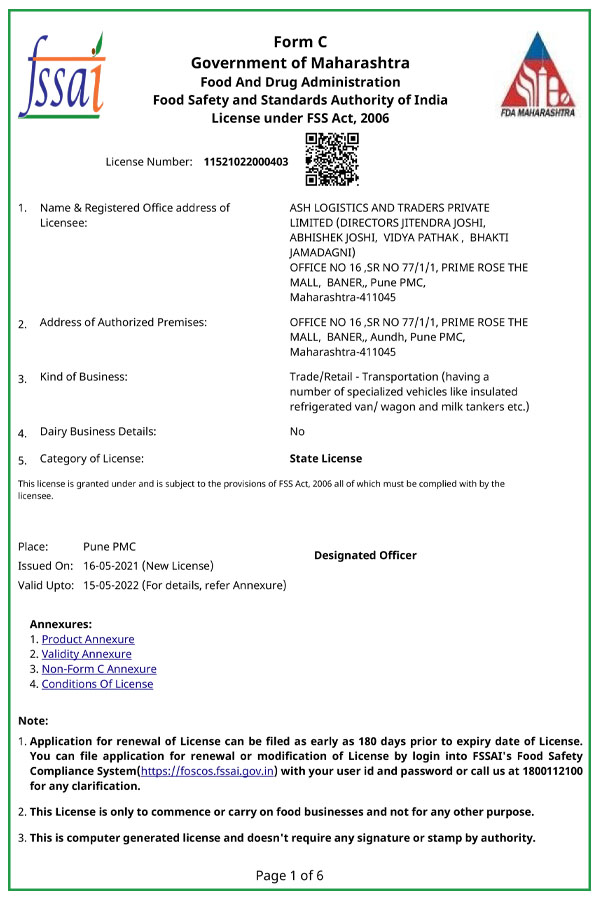 1] End to End Logistics Solutions
End to end Logistics Solutions ensures the comprehensive completion of work and is typically managed within a specified timeframe.
2] 24/7 Assistance
We provide prompt, economical and efficient support to our customers with our 24 by 7 shipment visibility with the help of unique LR Tracker Application.
3] Technology Driven
We provide technology that pushes for development of new logistics services based on customers' needs to achieve robust supply chain processes with cost savings, high productivity and market competency.
4] Monthly Operations Performance Review
Our Business Process Review begins with an evaluation of your current practices, which is done through a thorough analysis of process and technology. The review helps to define and fulfill customer's requirements.
5] Continuous Improvement In Delivery
We offer Centralized Transport Desk, Warehouse Management Systems (WSM), Transport Management System and Blockchain enabled supply chain and logistics solutions. We also have GPS & SIM Tracking application with advanced fleet analytics to meet the global standards of the Logistics Industry.
6] High Ethical Standards
We are disciplined in our professional lives by following the rules of the company & society. We adhere to the values of integrity and honesty in our behaviour & conduct.
7] Timely & Safe Delivery of goods
We aim to move supplies reliably and safely in a timely manner by saving costs, to its destination.
8] Active Community Partner (CSR)
We, at Ash Logitics, have implemented a self-regulating business model that helps us become socially accountable to ourselves, our stakeholders and the public.