Below are few but very relevant factors which affect complete supply chain of pharmaceuticals:
Cold storage handling
Specialised material handling bins, equipment, packaging etc.
Bulk drugs preparations material movement
Multiple drugs agency audits, checks imposed by various government agencies
Shelf life of the pharmaceuticals goods
Unforeseen factors in demand planning
Complex and urgent distribution planning & execution to maintain cost optimised every time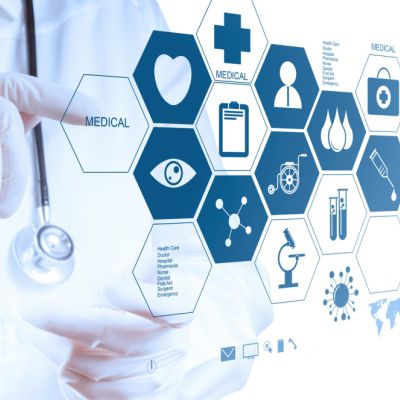 PHARMACEUTICALS SUPPLY CHAIN MANAGEMENT
In 2018, USD 76.4 billion was the valuation of global pharmaceutical logistics market size and is expected to register a CAGR of 3.5% from 2019 to 2025. Pharmaceuticals logistics has both types of handling including normal room temperature and cold storage handling.
We at Ash Logistics has decade of experience in managing such challenging supply chain for pharmaceuticals industry and we offer below services in this domain:
Pharmaceuticals 3PL / 4PL
Pharmaceuticals Warehousing
Pharmaceuticals Export-Import (EXIM)
Pharmaceuticals In-plant Logistics
Pharmaceuticals Transportation
PHARMACEUTICALS 3PL /
STEEL 4PL
Ash Logistics has vast experience in managing such a complex pharmaceuticals supply chains as 3PL / 4PL. Our competitive services mainly warehousing, transportation and EXIM offers stable pharmaceuticals supply chain management with experienced professional staff and advanced technology backbone.
PHARMACEUTICALS
WAREHOUSING
Challenges of complex Pharmaceuticals supply chain such as high volumes, low contribution margins, extensive distribution, fluctuation in demand and high inventory turnover introduces solution of interim storage & distribution. Decision of warehousing and distribution planning is very important to sustain profitability, maintain and grow market share in competitive market.
Ash Logistics
offers: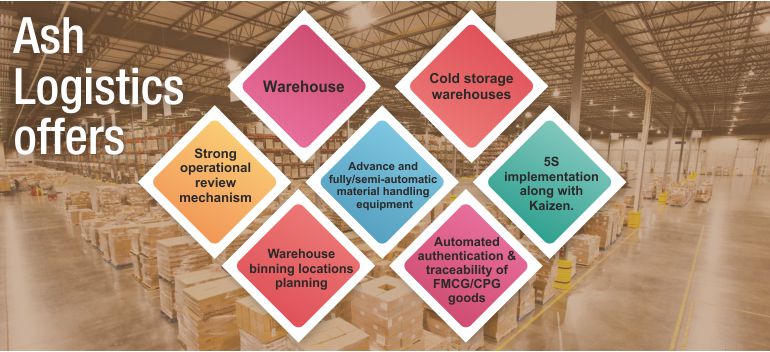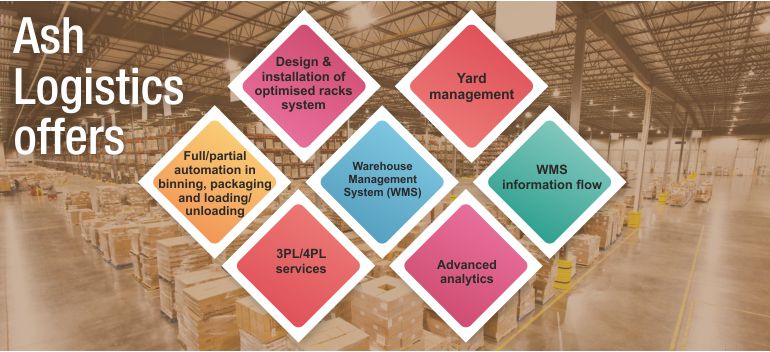 Selection of warehouse location based on distribution plan and complete Pharmaceuticals SCM consulting including design of warehouse facility, setting operational SOPs, suggestion w.r.t. improvements in current warehousing operations etc.
Cold storage warehouses to manage temperature sensitive pharmaceuticals goods, design of optimised cold storages for optimum power utilization.
Automated authentication & traceability of Pharmaceuticals goods for accurate FIFO management.
Warehouse binning locations planning to optimise space utilisation.
Strong operational review mechanism & reporting to control all activities related to warehousing.
5S implementation along with Kaizen.
3PL/4PL services to manage customer's entire warehouse activities.
Advance and fully / semi-automatic material handling equipment to save labour cost like – ASRS(Automatic Storage & Retrieval System), AGV(Auto Guided Vehicles), Reach Truck, Forklifts, HPT(Hand Pallet Trucks), semi-automatic conveyors for packing, printing and dispatches. We offer these equipment on hire-purchase or on monthly rent basis to reduce capital investment and maintenance cost (including specialised trained staff cost) of our customers.
Design & installation of optimised racks system on rental basis
Full/partial automation in binning, packaging and loading/unloading to reduce material handling time and cost.
Effective Warehouse Management System (WMS) for demand planning, inventory optimisation and distribution planning.
Immediate WMS information flow to upstream & downstream for quick decision making in fluctuating demand market.
Advanced analytics to support world class Pharmaceuticals warehousing operations.
PHARMACEUTICALS IN-PLANT
LOGISTICS
In-plant logistics covers movements of goods within the manufacturing/processing plant. Movements includes raw materials movement from receipt to intermediate storage, bulk drugs preparations - either to or from stocking points or packaging lines, for turning into finished packaged goods, as well as bringing finished products out to the factory gate or intermediate storage for dispatch outside factory. In-plant Logistics also covers intra-unit movement for goods (raw/semi-finished/finished).
Ash Logistics has proven partner for many leading pharmaceuticals companies' in-plant logistics. We offer below services in In-plant logistics management: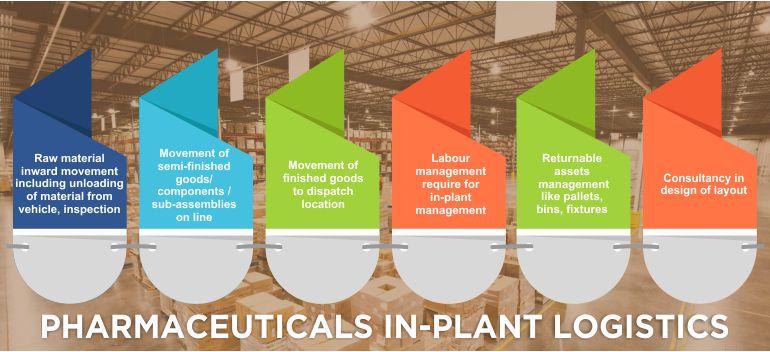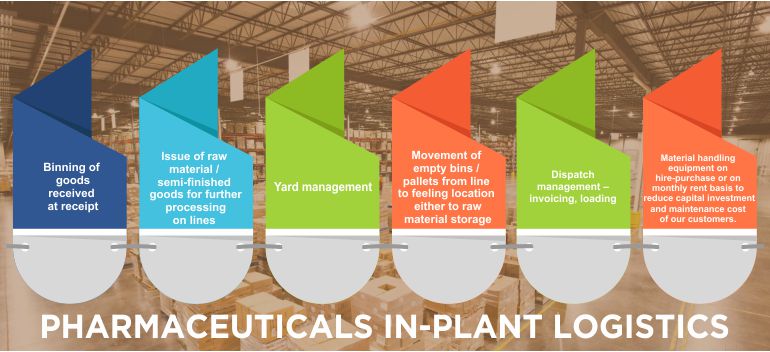 Raw material / semi-finished goods / components inward movement including unloading of material from vehicle, inspection
Movement of semi-finished goods / components / sub-assemblies on line
Movement of finished goods to dispatch location
Labour management require for in-plant management
Returnable assets management like pallets, bins, fixtures for movements, trays, trollies, tote bins etc.
Consultancy in design of layout (SLP – Systematics Layout Planning) for material movement, storage and handling equipment and IT support to design and development of in-plant logistics system
Binning of goods received at receipt
Issue of raw material / semi-finished goods for further processing on lines (line feeding)
Yard management
Movement of empty bins / pallets from line to feeling location either to raw material storage or previous stage of manufacturing or processing or outside factory.
Dispatch management – invoicing, loading
Material handling equipment on hire-purchase or on monthly rent basis to reduce capital investment and maintenance cost (including specialised trained staff cost) of our customers.
Washing / cleaning of bins, storage equipment etc.
PHARMACEUTICALS -
TRANSPORTATION
Scalability and the capacity to meet high demand at right time are essential in a transportation partner for the Consumer durables industry. Ash Logistics offers services that help improve efficiency all along the supply chain. As a 3PL partner with decades of experience, we have aligned our operations around transportation vertical to provide seamless services to the Consumer durables industry. Whether you need temperature-controlled or FTL transportation, we as a transportation partner to help with returns or recalls, or demo kitting for retailers, we offer a wide array of value added services in Pharmaceuticals Transportation viz: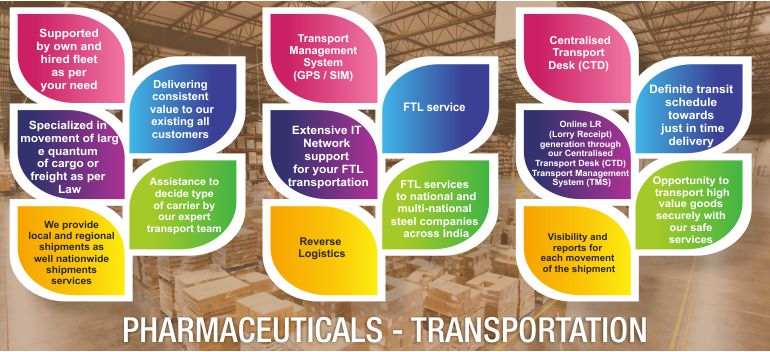 Supported by own and hired fleet as per your need
Specialized in movement of large quantum of cargo or freight as per Law
We provide local and regional shipments as well nationwide shipments services
Delivering consistent value to our existing all customers, we are trustworthy, reliable and leading service provider in this domain
Assistance to decide type of carrier by our expert transport team
Tracking of your consignments 24 by 7 through our Transport Management System (GPS / SIM)
Extensive IT Network support for your FTL transportation including online billing, payment, PODs and other data backup for a year
Reverse Logistics
We also provide FTL service from India to Nepal, Bhutan and Bangladesh and vice-e-versa
We are one of the leading logistics companies in India serving FTL services to national and multi-national Consumer Durable companies across India
24 by 7 Online /offline order placement using Centralised Transport Desk (CTD)
Online LR (Lorry Receipt) generation through our Centralised Transport Desk (CTD)Transport Management System (TMS)
Visibility and reports for each movement of the shipment
Definite transit schedule towards just in time delivery
Opportunity to transport high value goods securely with our safe services
PHARMACEUTICALS - EXPORT
IMPORT (EXIM)
Pharmaceuticals Export Import includes International transportation of Pharmaceuticals, including household healthcare items, hygiene items, bulk drugs preparations and other related products. We are ready to answer Pharmaceuticals EXIM SCM challenge with our vast network of international contacts and expert knowledge of the international freight forwarding. Our core services in Pharmaceuticals EXIM includes:
AIR FREIGHT -
IMPORTS AND EXPORTS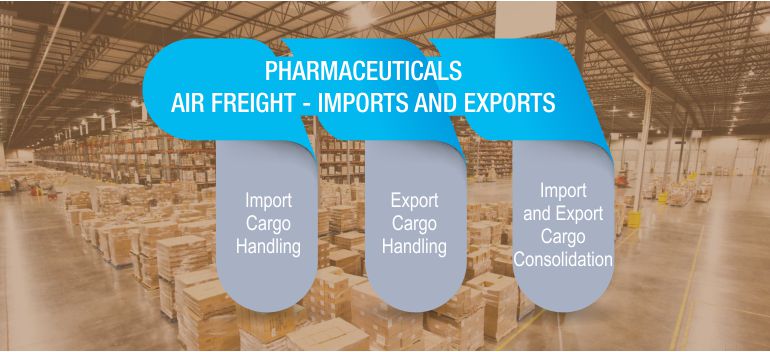 Import Cargo Handling
Export Cargo Handling
Import and Export Cargo Consolidation
SEA FREIGHT -
IMPORTS AND EXPORTS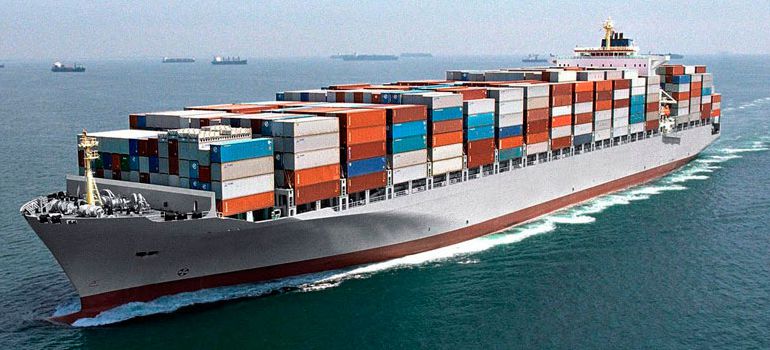 Full Container Load (FCL)
Less than Container Load (LCL)
Buyer Consolidation
Direct & Transhipment service options
Port to Port Services
Break Bulk
CUSTOMS
CLEARANCE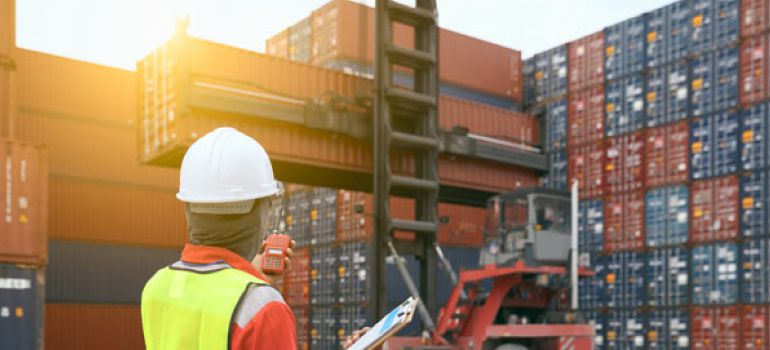 We provide the following
services: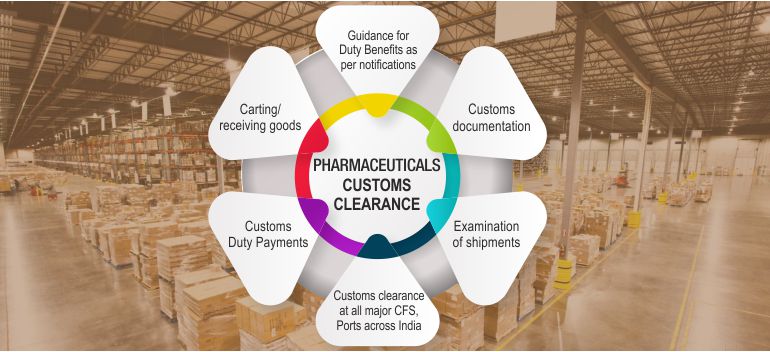 Guidance for Duty Benefits as per notifications.
Customs documentation
Examination of shipments.
Customs Duty Payments.
Customs clearance at all major CFS, Ports across India
Carting/ receiving goods
Are you interested in being a partner with Ash Logistics and Traders?
Join us as a partner and grow your business with us as never before. We are not just service provider but we are growth partner.